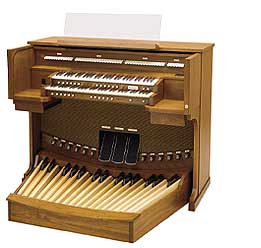 Model R230
Specifications
GREAT
SWELL
PEDAL
SECOND VOICES

Diapason 8
Harmonic Flute 8
Flute Celeste II 8
Octave 4
Spitzflote 4
Fifteenth 2
Mixtur IV
Tromba 8
Krummhorn 8
Tremulant
Chimes
Classic Voicing Gt-Ped
Swell to Great
MIDI on Great

Lieblichgedackt 16
Gedackt 8
Viola Pomposa 8
Viola Celeste 8
Octave Geigen 4
Traverse Flute 4
Nasard 2-2/3
Piccolo 2
Tierce 1-3/5
Fourniture IV
Waldhorn 16
French Trumpet 8
Oboe 8
Tremulant
Celesta
Harpsichord
Solo Organ Voices
Swell Unison Off
MIDI on Swell

Diapason 16
Bourdon 16
Lieblichgedackt 16
Octave 8
Flute 8
Choralbass 4
Mixture III
Posaune 16
Tromba 8
Swell to Pedal
Great to Pedal
MIDI on Pedal


Great
Principal 8
Metalgedackt 8
Oktav 4

Swell
Orchestral Flute 4
Clarinet 8
French Horn 8
Cor Anglais 8

Pedal
Prinzipal 16
Subbass 16
Oktav 8
Super Oktav 4

GENERAL
Bass Coupler (Couples the Pedal stops to the lowest note played on the Great).
Melody Coupler (Couples the Swell stops to the top note played on the Great).
Alternate Tuning On.
Tremulants Full.
Moving stop capture action system.
Virtual Acoustics reverb system.
Tutti I and Tutti II.
Expression: Great-Pedal, Swell, Crescendo.
Twelve note transposer.
AUDIO SYSTEM: Two channels totalling 200 W RMS, one 15" speaker, two premium 8" speakers and two tweeters; custom speaker installations and antiphonal divisions are optional.
CONSOLE DIMENSIONS: Width 1464mm, Height 1194mm, Depth 806mm, Depth with pedalboard and bench: 1420mm.


All specifications and stop lists subject to change without notice or obligation.


---