THE STORY OF A THEATRE ORGAN BY A212
Early days in Worthing
1933, what a year! There may have been turmoil in the world, but I WAS BORN! I was conceived in the John Compton Organ Co. works in London and delivered, fully grown, numbered A212 to the Plaza Theatre Worthing. What a magnificent sight I was when I made my appearance on the stage surrounded by beautiful changing coloured lights and filling the 2000 seat theatre with thrilling music. How the audiences loved me and appreciated the skilled musicians, especially Tommy Dando who was the first resident organist, who coaxed wonderful effects from my pipes and special effects. Tommy who played on many UK organs said I was the best Compton, a sentiment echoed many years later by visiting artists at my new home in Perth. Beside the organ and films, the theatre complex included a spacious cafe and a superb ballroom. Life couldn't have been better.
THOMAS DANDO AT THE ORIGINAL INSTALLATION OF THE COMPTON ORGAN CONSOLE IN THE PLAZA THEATRE, WORTHING, ENGLAND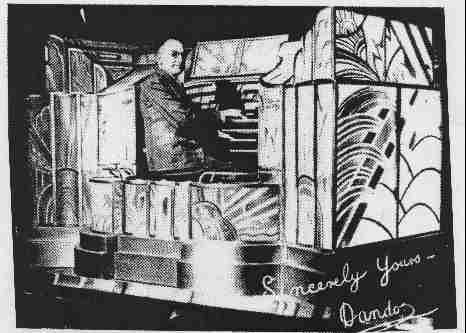 But sadly things change. Television came and the cinema became less popular. The writing was on the wall when the cinema was converted to a bingo hall. The beautiful music was replaced by shouts of "Bingo", although some concerts were still played. But eventually I suffered the indignity of being offered for sale. Would anyone buy me? Yes, some people in far off Perth, Australia were interested, and a sale was arranged.
I learnt later that the Theatre Organ Society of Australia had branches in a number of states and the West Australian division was formed in 1968. The keen members organised all sorts of fundraising activities including concerts, picnics, motor rallies etc., even straight-out donations and eventually they had raised enough money to make an offer to buy me.
Just before I was packed up in 1971, one of England's then popular organists Bobby Pagan included in his programme a tune with a strange title, "Waltzing Matilda". Apparently this was popular in Australia and presumably was intended to make me feel welcome in my prospective new home.
Early days in Perth
After I was shipped to Fremantle, I was dumped on the wharf at Fremantle. And now the troubles started. Although I was 37 years old, by some mistake (I don't know whose) the Australian customs assessed me as new, which attracted a much larger import duty. This was a disaster for my new owners, as they had not budgeted for this impost. So I remained forlorn at the dockside for some time. What was to happen to me now?
A shining knight rode to my rescue. Mr. Bob Purvis, a prominent music industry and sound system businessman, offered to buy me from TOSA W.A. and to meet all the extra costs. I was to be installed in his factory at Myaree and TOSA W.A. people were to set me up and look after me, and to hold concerts. This very generous man had ideas on how he could use me in his business.
So began the work of unpacking and assembling me. Disaster! All the beautiful illuminated surrounds of coloured lights and glass on the console were smashed. At first I was aghast, but on reflection I felt that they were very 1930s and while much admired then, I felt they were a bit vulgar now I was in more mature years.
THE COMPTON ORGAN CONSOLE IN THE PURVISONIC FACTORY, MYAREE, PERTH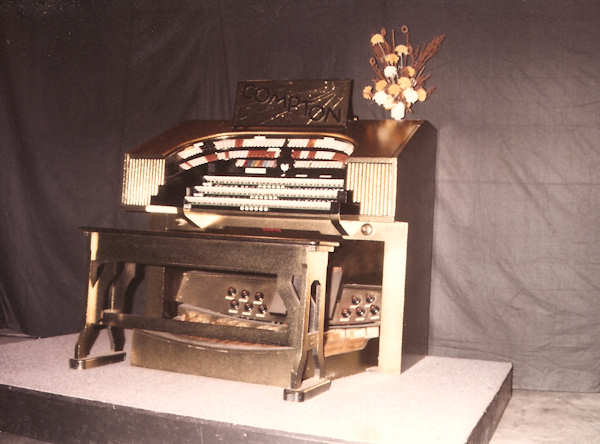 For some years I was not used very much and it was recognised that a full renovation was necessary, this being undertaken by members of TOSA W.A. In November 1983 Mr. Warren Lubich played at the re-opening concert in Myaree. One would have to say that the poor gentleman performed under great difficulty as the warm day caused the tuning of my pipes to drift during the afternoon. However this was a start and regular concerts were given over the next three years. While a factory was not a suitable concert venue, it was better than nothing.
Later days in Perth
Then came another setback. Mr. Bob Purvis died. David Johnston presented a memorial concert in his memory on 18th May 1986. Negotiations with Mr. Purvis' estate resulted in TOSA W.A. repurchasing me. But of course a new venue was needed and thanks to the good work of a TOSA W.A. member an arrangement was made with the City of Nedlands to use the John Leckie Music Centre. (This had previously been known as the John Leckie Sports Pavilion and evidence of this may be seen on the wall of the change rooms under the hall, and of the playing fields which surround the hall in College Park. TOSA W.A. is not the only group which uses the hall for music, so the name change is appropriate. Mr. Leckie was a Nedlands Councillor in early times who had been a leader in the development of College Park.)
During November and December 1986 I was once more dismantled and removed. For the next two years a dedicated band of volunteers worked tirelessly to assemble me in the hall. The chambers were fully constructed by the team in what had previously been a mezzanine floor. The layout of the chests was decided following consultation with other people with previous experience. The stage was constructed and my console stripped and re-sprayed to its bright, but not garish, form you see now. The connection between the console and the chambers was by means of some massive Telecom cables, very generously donated, which are above the ceiling. And we must not forget the enormous task of matching connections between the distribution board at the back of the console and its counterpart in the relay blower room.
FATHER JIM MILLER PLAYING THE COMPTON ORGAN CONSOLE AT THE FIRST CONCERT IN THE JOHN LECKIE MUSIC CENTRE, NEDLANDS, PERTH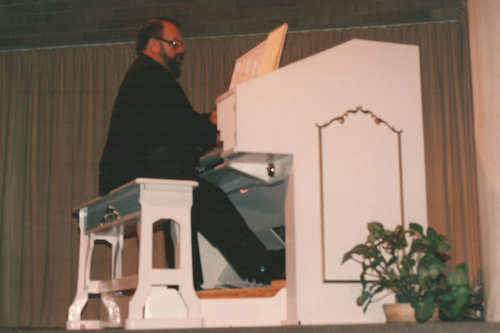 By 1988 I was ready to be played. The first concert in the John Leckie Music Centre was given by that charismatic priest from America, Father Jim Miller, at 8 pm on Friday August 12th. How marvellous I felt, after all the work done by the TOSA W.A. members, to have me in playing order, and to have such a distinguished organist to show off his (and my!) ability to create beautiful music. Since that first concert in 1988 I have enjoyed giving many concerts each year played by many artists, local, interstate and overseas. In 1989 and 1994 TOSA W.A. hosted the National Theatre Organ Society of Australia Easter Conventions. Over the years work has gone on to improve me. Originally I was a 3/10 organ, but two new chests have been added so I am now a 3/12 organ and I sound much better for this addition. Quite a lot of my original wiring has needed replacing. When I was built, Mr. Compton' s wiring was all cotton covered, originally white, but over the years with the grime from coal dust in Worthing, the colour turned to a beige-grey. Since then plastics have been invented and now much of my wiring is now insulated with colour-coded plastic. This makes for the easy identification of which wire goes where. The dedicated maintenance crew have worked hard to make improvements so that now I am rated as the best Compton organ in Australia.
The present day
My memory for names is not the best but I do remember, after Tommy Dando, Warren Lubich and Jim Miller, many great artists from Britain, America, Eastern States and locals, names like Walt Strony, Jonas Nordwall, Hubert Selby, Ronald Curtis, Peter Lish, Douglas Reeve, Tony Fenelon, David Johnston, Chris McPhee, Ryan Heggie, Elizabeth Hanton, Margaret Hall, Heath Wooster, Scott Harrison and Thomas Heywood not forgetting local John Pound and of course our beloved patron Len Rawle who helped me to entertain you.
LEN RAWLE AT THE COMPTON THEATRE ORGAN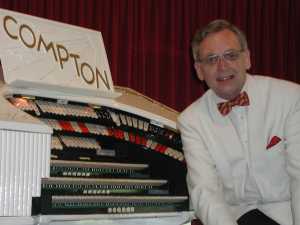 Over the years so many people have worked very hard to get me to my present good shape. I remember Geoff Knaggs, Fred Starcken, Ron Burnett, Stan James, Les James, Ray Clements, John Fuhrmann, Doug Buswell, Ken Meeks, Stan Higgott, Dave Parker, Alan Harris, Malcolm Hood and Ian McLean. I hope others, whose names I cannot remember, will forgive me; they know whom they are and can take pride in their achievements. I thank them all most sincerely. Although I never got to know all their names, I should acknowledge the ladies who make the afternoon teas, an essential part of a good concert.
I was proud to be part of the special triple anniversary in 2008. I turned 75 years old, TOSA W.A. was 40 years old, and together we celebrated the 20th anniversary of coming to the John Leckie Music Centre. Those of you who attended the anniversary concert would have thoroughly enjoyed my various tones as presented by TOSA W.A.'s patron Mr. Len Rawle. In 2013, I was again part of celebrations of the 25th anniversary of my installation in the John Leckie Music Centre. Chris McPhee had been one of the first people to play a concert on me in the John Leckie Music Centre, and was invited back to play the 25th anniversary concert. On that occasion, Chris ably showed that there is still a lot of life left in me.
Then in 2018, we celebrated my 85th birthday at the TOSA(WA) Fiftieth anniversary celebrations. Once again, Chris McPhee played me on that occasion, as well as Tony Fenelon, John Pound, and a whole variety of people who came from all over Australia to celebrate.
CHRIS McPHEE AT THE COMPTON ORGAN IN 2013 AND (ON THE SCREEN) IN 1989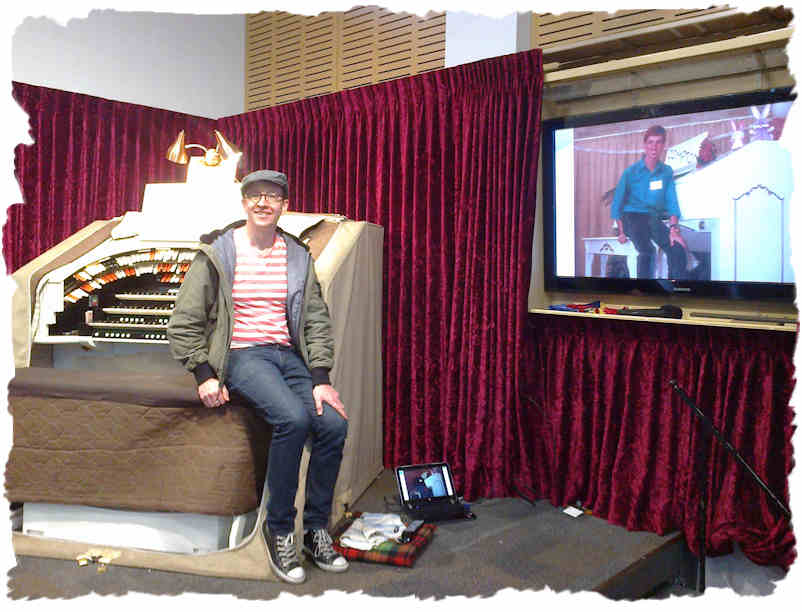 By now you must have realised that I am not just an inanimate object, but I have feelings. My greatest joy is to entertain you, and I would welcome any opportunity to play music for you. Please help my dreams come true and come along to a concert and hear what I can do. (I suppose you know organists refer to me as "she"; of course I am female.)
---
---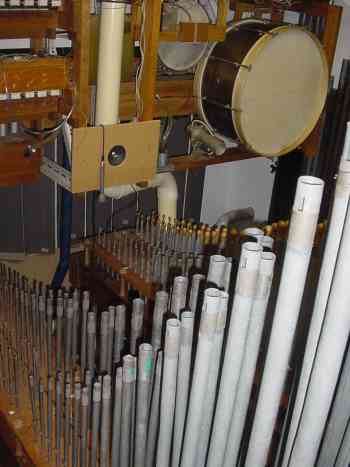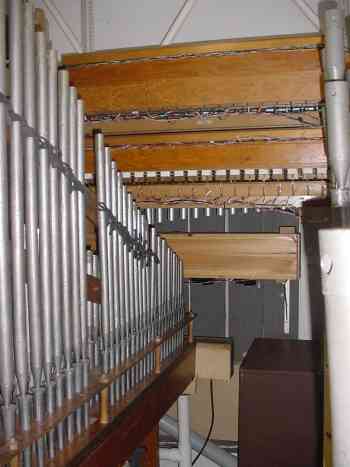 VIEWS WITHIN THE PIPE CHAMBERS