COMPTON ORGAN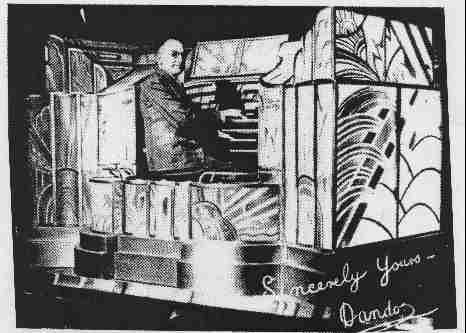 THOMAS DANDO AT THE ORIGINAL INSTALLATION OF THE COMPTON ORGAN CONSOLE IN THE PLAZA THEATRE, WORTHING, ENGLAND
The Compton organ now owned by the Theatre Organ Society of Western Australia was built in 1933 by the John Compton Organ Company of England. The builders designated it as Opus 212 and it was originally located in the Plaza Theatre in Worthing, England. The organ was purchased and moved to Western Australia in 1971. It was installed in its present location at the John Leckie Music Centre in 1988.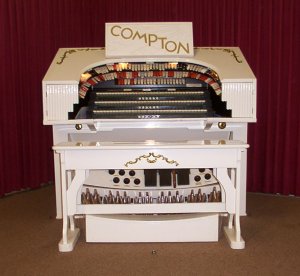 The organ consists of 3 manuals of 61 notes, with a 32 note pedalboard. The pipes are contained in two chambers at the rear of the building. There are 12 ranks of pipes (815 pipes in total), as well as 4 percussive voices, and drums, cymbals and other sound effects.
The organ has a total of 144 stops - 19 Pedal stops, 26 Accompaniment stops, 7 Accompaniment second touch stops, 9 Accompaniment Trap stops, 43 Great stops, 34 Solo stops and 6 Tremulant stops. There are also 8 toe pistons to operate sound effects.
Extensions and upgrading of the organ occurred in 2000 with the replacement of the original metal tibia pipes with a rank of wooden tibia pipes and the addition of the salicional and salicional celeste ranks. Further upgrading occurred in 2002 with the addition of intermanual couplers, and relocation of the salicional pipes and the chimes from the solo chamber to the accompaniment chamber. Replacement of the original cotton covered wire with PVC insulated wire within the console and chambers has since been completed.
Further upgrading occurred in 2013 with the addition of a capture action system. The original system involved setting switches behind the organ to allow the organist to programme stop changes to a total of 21 pistons. This was replaced with a multi memory system, with ten general pistons, plus ten pistons for each manual.
The summary of the organ specification is as follows:
ACCOMPANIMENT CHAMBER
SOLO CHAMBER
TRAPS

Diapason: 73 pipes
Flute: 91 pipes
Violin: 73 pipes
Violin celeste: 73 pipes
Salicional: 73 pipes
Salicional celeste: 61 pipes

---

Xylophone: 37 notes
Chrysoglott: 49 notes
Cathedral Chimes: 20 notes
Carillon

Tuba: 85 pipes
Trumpet: 61 pipes
Tibia: 91 pipes
Clarinet: 37 pipes
Krumet: 36 pipes
Vox Humana: 61 pipes

---

Glockenspiel: 37 notes

Bass drum
Crash Cymbal
Cymbal roll
Snare drum
Tom Tom
Tambourine
Castanets
Sleigh Bells
Chinese block
Triangle
Sand block

---

Fire bell
Steam whistle
Bird whistle
Siren
Klaxon horn
Second touch is provided on the Accompaniment manual
Unique Compton innovations:
Carillon stop: achieved by simultanously sounding 5 Chrysoglott notes to produce a chime sound.
Acoustic Bass stop: achieved by simultaneously sounding 5 Tibia and Tuba notes to produce a discordant rumble.
Touch Cancel: Pressing hard down on any stop causes all stops in the division to turn off.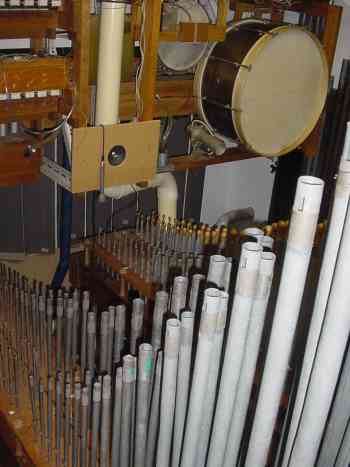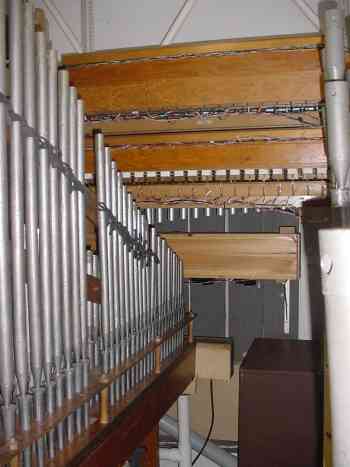 VIEWS WITHIN THE PIPE CHAMBERS