WHY CONSIDER AN ALLEN ORGAN?
LEADERSHIP -- Allen built the first digital organs over 45 years ago and are still at the cutting edge of the technology today.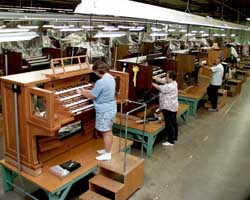 RELIABILITY -- The first digital organ installed in Western Australia back in 1974 is still in working order today. In fact, the ten oldest Allen organs to be installed in Western Australia, back in the 1970s and 80s, are all being regularly used. And since then, we have installed over seventy organs in churches, school buildings and homes around Western Australia. Spare parts are available to service every model of Allen organ produced. The Allen Organ Company has over US$1M of spare parts stocked to service older organ models.
DESIGN -- Innovative design features include:
• All key contacts and stop switches are sealed reed switches to prevent dirt, dust or humidity ever stopping notes from playing.
• Gold plated connectors are standard on printed circuit boards to ensure reliability.
• Attention to detail such as the attack and decay of individual notes, including chiff and wind sounds.
• A 12 note transposer knob is standard on all models.
• GeniSys Voices - two additional voices on each division which can be programmed from a library of over 250 voices.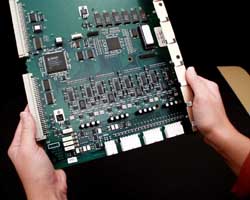 • Innovative features on most models include the bass coupler (couples pedal stops to the lowest note being played on the great) and the melody coupler (which couples swell stops to the highest note being played on the great).
STANDARDS -- Built to AGO specifications, all models have 61 note keyboards, and 32 note, concave and radiating pedalboards.
QUALITY -- Top quality audio and speaker systems ensure quality sound reproduction. The craftsmanship and finish of console woodwork make an instrument which is also a fine piece of furniture.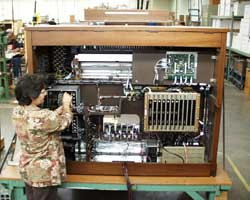 CUSTOMISATION -- There is a wide variety of options and customisation available for Allen organs. This link details the variety of options available.
MULTIPLE VOICING SUITES -- Many Allen Organs have the option of four, six or more voicing suites. These include Classic Allen, Schlicker, Cavaille-Coll, English Cathedral, Arp Schnitger, Aeolian-Skinner and three Theatre stop lists: Wurlitzer, Barton and Morton. Check out this video for a demonstration of the differences between voicing suites. Or click here for a description of the differences between the voicing suites available.
PRICE -- No, they are not the cheapest instruments available, but they are cost effective compared to the initial and ongoing costs of maintaining a pipe organ. Allen prides itself on building an instrument of unmatched quality which is ultimately worth more.
"There is nothing in the world that some man cannot make a little worse and sell a little cheaper, and he who considers price only is that man's lawful prey." John Ruskin
GENISYS VOICES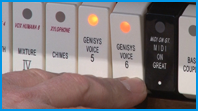 Allen's latest innovation is GeniSys voices - two additional stops on each manual and on the pedals which can be programmed with the sound of the organist's choice.
GeniSys Voices provide the tonal diversity of a comprehensive stop list to even the most modest instruments. GeniSys Voices set a new standard for organist-friendly operation and include sounds that enhance every style of worship and organ literature!
• HD Sound
• 2 Dedicated GeniSys Voice Stops per Organ Division
• Over 250 different voices - organ stops, Grand Pianos, orchestral, keyboard and percussion voices
• Adjustable volume and tuning per voice
• Voice assignments remain until changed by organist
• Voices capture to organ pistons
• Voices can couple between Divisions
Click here for more information on GeniSys voices or visit our studio to play an organ fitted with GeniSys voices and discover how easy it is to use this feature.
MIDI INTERFACES
MIDI was developed in the 80's for the synthesizer field. Although early synthesizers could produce a variety of sounds, only a few sounds could be played simultaneously. To overcome this, an interconnect language, MIDI, was developed to allow multiple instruments to be connected and controlled by one keyboard.
MIDI soon found applications for organs. Besides traditional sounds, organs could also provide contemporary sounds by controlling synthesizers. Also, MIDI sequencers enabled organ music to be stored on computer memory for automatic playback.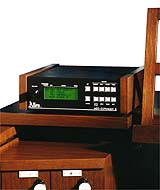 Allen Organs manufacture a number of expanders, with voices and sounds specifically requested by organists for organ playing. They also have orchestral and synthesised sounds to produce a more contempary sound. These can be used from any instrument with a MIDI interface.
A MIDI recorder allows the organist to record their own playing to computer disc or thumb drive; alternatively, professionally recorded discs are available which utilise your organ to reproduce the music.
The Allen Vista combines an expander with a recorder in the one package. Allen's latest MIDI expander is the Vista Navigator™, a combined expander and recorder in the one, simple to use, touch screen package.
Check out the Allen website for more details and specifications of these devices.
Click here for details of the Allen expanders, recorders and MIDI devices.

BASS COUPLER AND MELODY COUPLER
The Bass Coupler is a playing aid designed to help organists who are not confident playing pedals. The Bass Coupler works by sounding the pedal stops to the lowest note being played on the great manual, enhancing the fundamental bass sound.
The Melody Coupler works by sounding the swell stops to the highest note being played on the great manual. This accentuates the melody of the piece being played and gives a lead to congregational singing.
To hear the benefits of these playing aids, visit the studio for a demonstration.