LOCAL NEWS: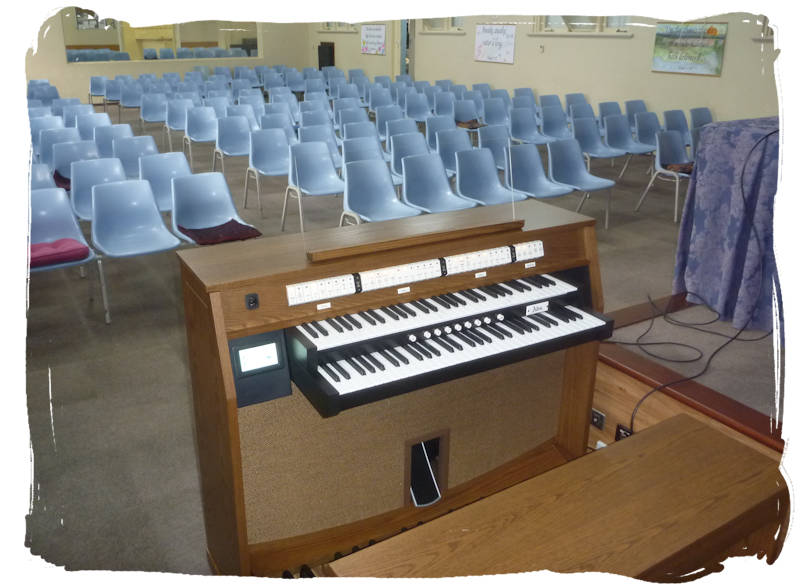 • August 2019 The second new organ installation to have occurred in August 2019 was at the Christadelphian Hall in Victoria Park. Having had a virtual organ for many years, they decided to purchase an instrument which would be more reliable and satisfy their musical needs into the future. The model chosen was the Allen Repertoire II - a two manual instrument with just two suites. The first suite is the Classical Allen which is based on traditional pipe organ sounds, formed into a well-regulated and balanced set of voices, each well complementing the other.
However the organ is dramatically transformed by selecting the alternative Orchestral suite. The Orchestral suite includes voices more suited to contemporary music including violin, strings and choir stops. The Gedackt stop transforms to a Tibia with a stronger tremulant and the solo reed stops change to an English Horn and a Clarinet.
Another feature of this model is the hymn player, which allows a non-musician to select a hymn from a list, choose the number of verses to be played, select whether an introduction is required, alter the key or tempo if necessary and then simply press a button to enable the hymn to play. And this operation can be performed from a smart phone, without having to be at the organ console. Organ playing of the future...
Click for more details of this instrument.
---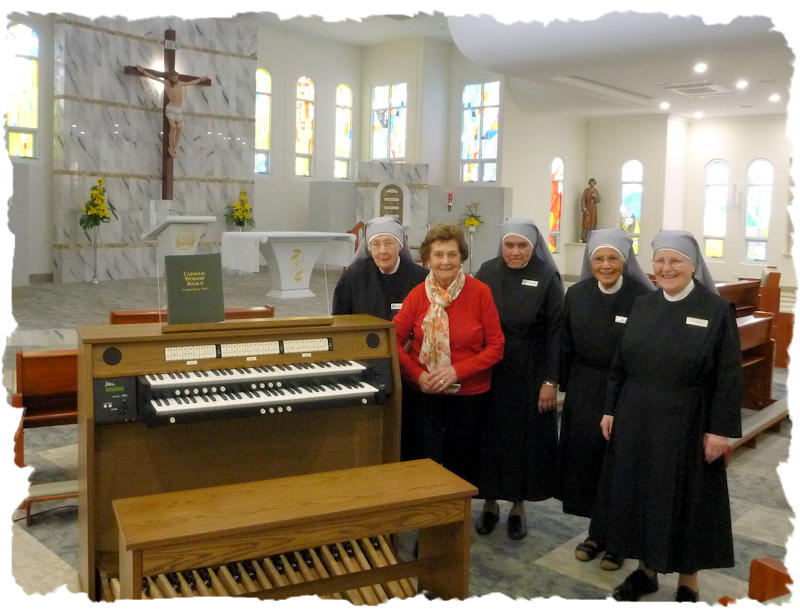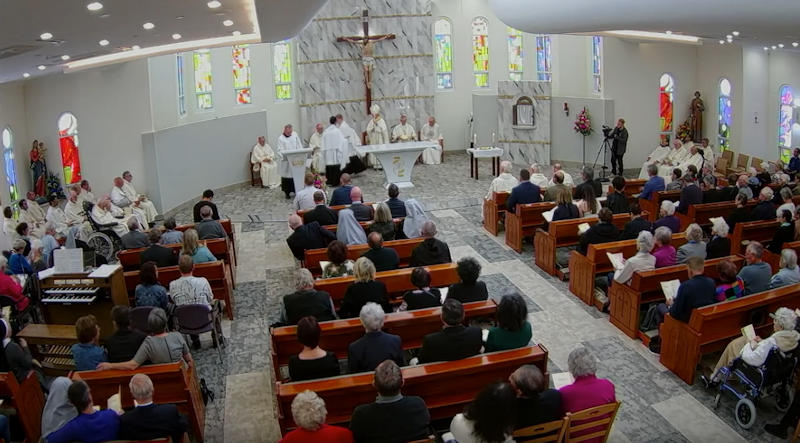 • August 2019 Since 1920, the Little Sisters of the Poor have been caring for the elderly and underprivileged in Perth. At their site at Glendalough, they currently care for about 60 residents. They have just completed a new building program at this location, including a beautiful new chapel. A new Allen organ has just been installed in the chapel - a Historique model I. This is a two manual instrument with 24 speaking stops, four voicing suites and a self-contained audio system.
Click for more details of this instrument.
---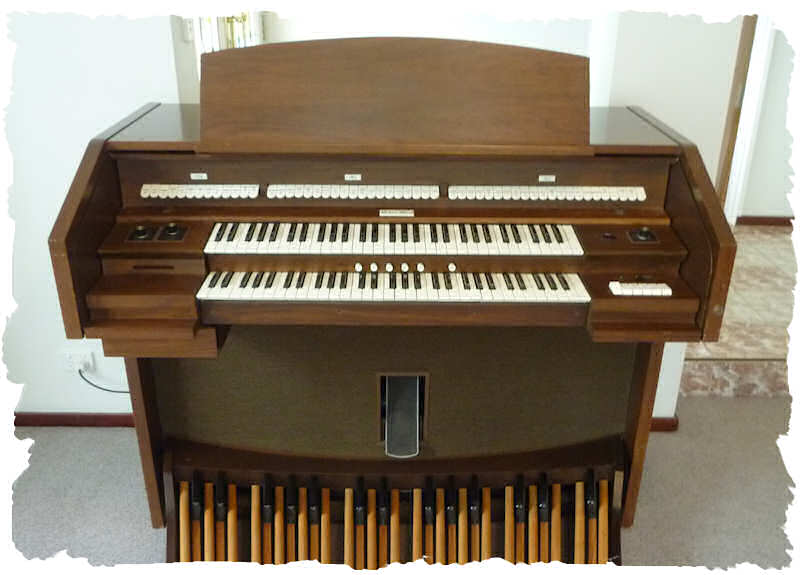 • August 2019 An old Allen to a new owner. This early model digital technology organ with 37 speaking stops and a total of 53 stops has just been installed in a private residence. It has five preset pistons, a 12 step transposer and a two channel audio system. The organ has quality Allen 61 note keyboards and a full AGO sized 32 note pedalboard. The organ has been purchased as a practice instrument for a student learning organ at Guildford Grammer school. With 61 note keyboards and an AGO sized pedalboard, this instrument is ideally suited to this role.
Click for the complete stoplist of this instrument.
---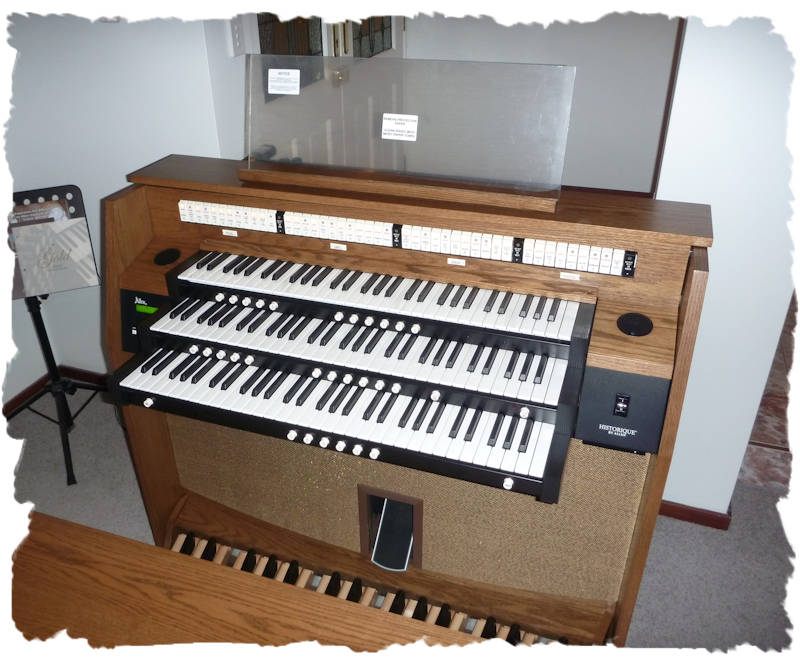 • May 2019: A new Allen has arrived... A new three manual Historique IIIa has been delivered, and is now sitting in our showroom, ready for any who want to come and have a play. A three manual instrument, with a self contained audio system. It has 34 speaking stops, with six classical voicing suites (Classic Allen, English, Cavaille-Coll, Schlicker, Arp Schnitger, Aeolian-Skinner) and three theatre voicing suites available (Wutlitzer, Morton and Barton).
Click for the complete stoplist of this instrument.
Email us or telephone if you would like to hear the instrument.

---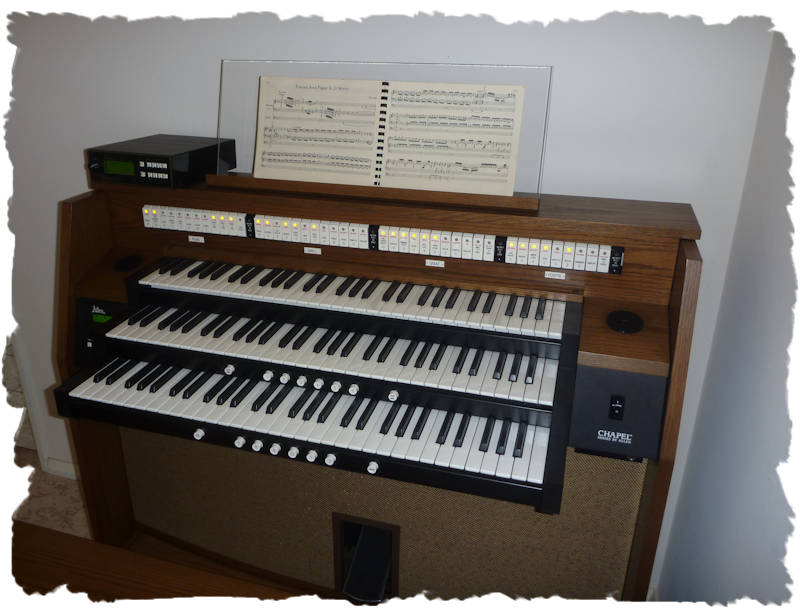 • December 2018: Another Allen installation occurred just before Christmas 2018, when an Allen model Historique III was sold and installed in a private home in Perth.
This installation is the smallest three manual instrument that is currently manufactured by Allen, but it has also been fitted with an Allen Expander to provide an additional selection of organ and orchestral voices. It has 34 speaking stops, with six alternative classical voicing suites available (Classic Allen, English, Cavaille-Coll, Schlicker, Arp Schnitger, Aeolian-Skinner) and three theatre voicing suites available (Wutlitzer, Morton and Barton). The organ has an internal speaker system only.
At first glance a three manual organ seems far more complex and intimidating than a two manual instrument. In fact, the opposite is really the truth. Three keyboards allows three contrasting tonal registrations to be set up at any one time, giving 50% more versatility over a two manual organ. It is far easier to move the hands to a different manual to quickly change registration, rather than having to alter stop settings on the fly.
There are also two smaller Historique models in the range, which are likewise designed for home installations. The Historique I, a 24 stop two manual organ with four voicing suites and the Historique II, a 28 stop two manual organ with nine voicing suites.
In Western Australia we have now sold nine Allen organs with three manuals. It is an interesting fact that of these 9 three manual organs, eight of those have been for installations into private homes, albeit that two have since been relocated into churches.
Click for the complete stoplist of this instrument.
---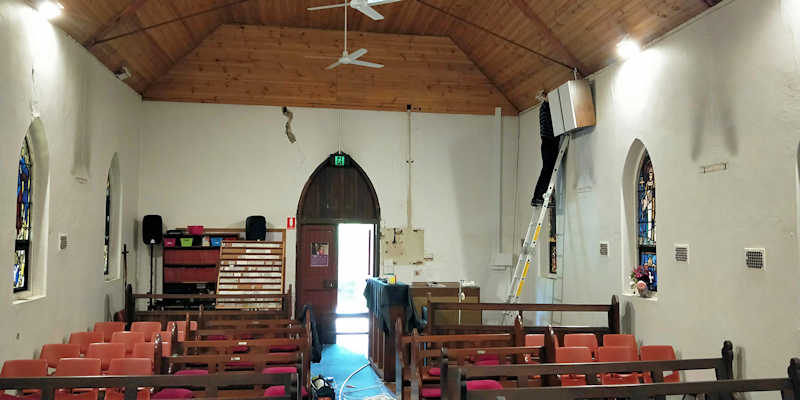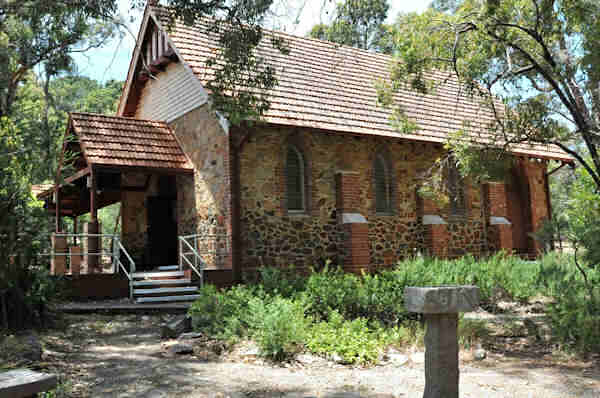 • November 2018: Back in 2015, the Anglican Church in Darlington purchased and installed an Allen Protege model L5 organ - and in November 2018 they upgraded the installation with the addition of two new HR100 speaker enclosures. Speaking into the ceiling area of the sanctuary, the new speaker enclosures fill the building with sound, in contrast to the previous temporary installation, which blasted sound around at floor level. The new speaker installation dramatically improves the sound of the instrument, which in turn means an enhanced worship experience for those attending this church.
---
• September 2018: The Theatre Organ Society of Australia celebrated fifty years in Western Australia in September 2018 with a weekend of concerts and entertainment featuring Chris McPhee, Rosanne Hosking, John Pound and Tony Fenelon. More than thirty people attended from interstate, plus healthy support from Perth theatre organ lovers, resulted in a well attended weekend of events. Allen Organs is proud to support this community group who provide musical entertainment to the people of Perth. Visit www.tosawa.org.au for more details of theatre organ activities.

---
Since the late 1970's, Ron Raymond has been manager and driving force behind Allen Organs in Western Australia. He has been assisted by his son Rodney, who to date has mainly been responsible for larger installations and technical support. Rodney has now taken over the management of the business.
Contact Ron on 9450 3322 or Rodney on 9310 2838 and we will be pleased to assist with any musical enquiries.
The new structure indicates our willingness to continue to provide unmatched customer support to the Allen Organ owners in Western Australia, and those who may be considering an Allen organ.
The reasons we exist: Incomparable Sound, Lasting Quality and Unparalleled Support.
---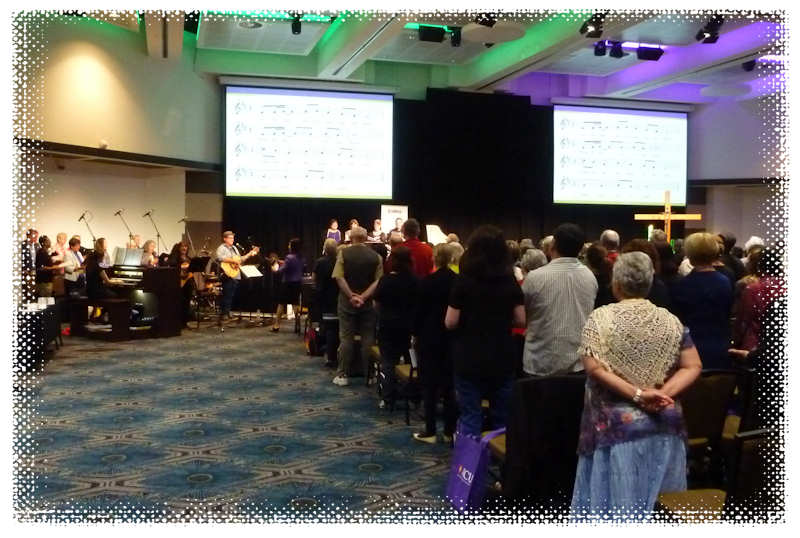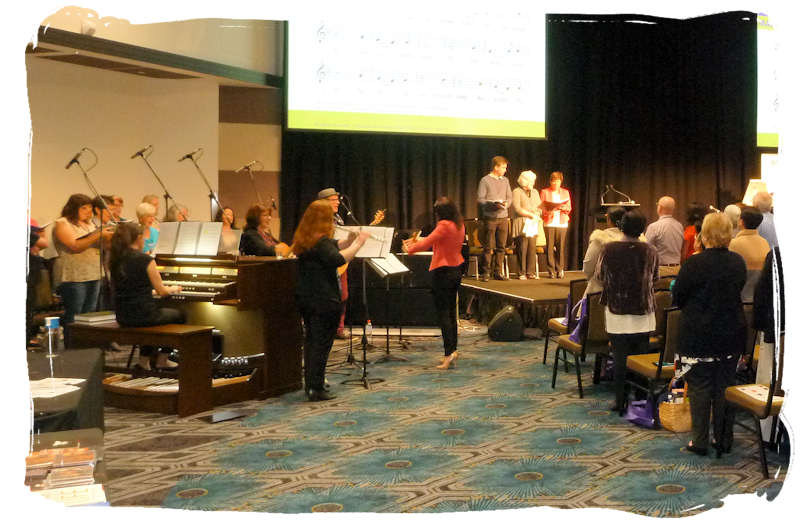 • October 2017: Allen Organs were silver sponsors of the Australian Pastoral Musicians Network's 2017 conference held in Perth.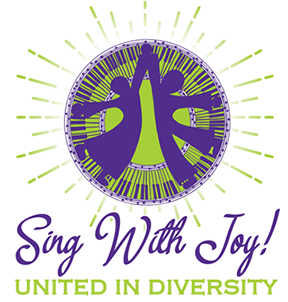 The conference featured three days of inspirational music and education held in October 2017 and was attended by over 320 people from around Australia and New Zealand.
The conference keynote presenters were David Hass, contemporary composer of Liturgical music, and Professor Claire Johnson, Director of the ACU Centre for Liturgy and Chair of the National Liturgical Music Board. Both speakers provided valuable insights into Liturgical music and in addition, these sessions were supplemented by 36 different workshop presentations.
To assist worship, Allen Organs provided a model L124 organ which was used during mass and various singing sessions (shown in the above photographs). Also on display was a smaller Repertoire II instrument.
The conference was a wonderfully inspirational experience and we are proud to have helped contributed to the success of this conference.
Click here to visit the APMN website
---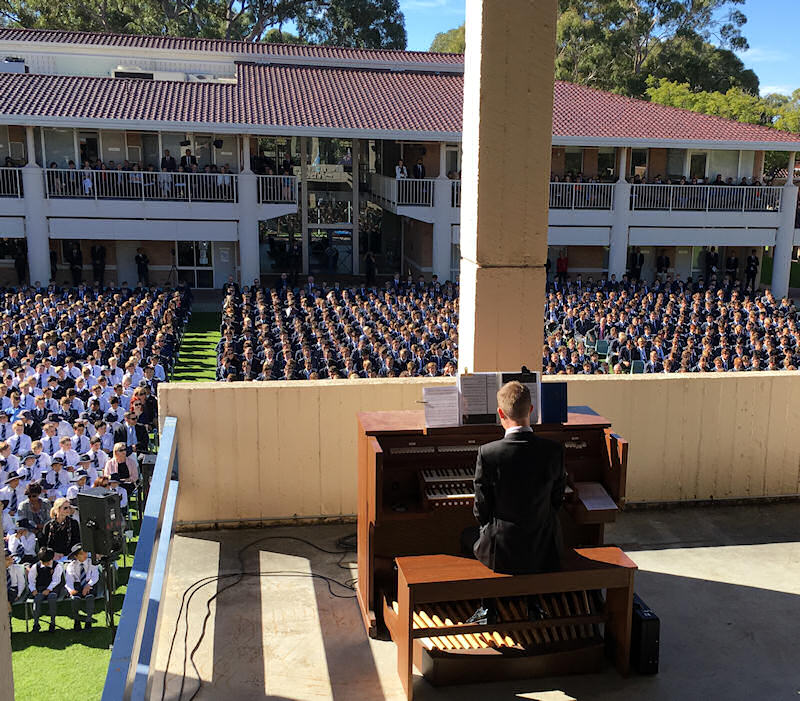 •May 2017: Hale School, a prestigious secondary school in Perth's western suburbs commissioned a new headmaster in May 2017. Use of their Allen organ was required for the commissioning service. This involved moving the console from the Memorial Hall out onto the balcony, overlooking where over a thousand students and visitors witnessed the event. Allen Organs in Perth were pleased to be able to assist in the setting up of this instrument for this prestigious occasion.
---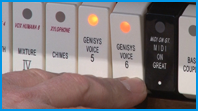 • September 2016: We are pleased to announce that the very latest Allen innovation and technology has arrived in Perth.
We have two new Allen models in our studio, one of which is fitted with GeniSys Voices.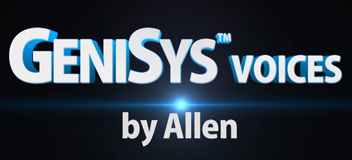 GeniSys Voices provide the organist with two additional stops on each division, each of which is easily programmed from a selection of over 250 voices, each voice chosen to complement an organ specification. This provides the tonal diversity of a comprehensive stop list to even the most modest instruments. GeniSys Voices set a new standard for organist-friendly operation and include sounds that enhance every style of worship and organ literature!
Visit our Studio Organs page for more details and give us a call to come and hear this exciting new innovation from Allen Organs.
---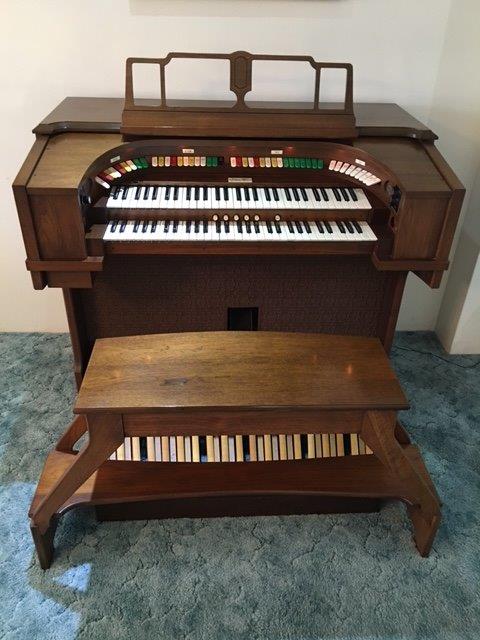 • A second hand Allen theatre organ has just become available for sale by the owner.
This is a 2 manual instrument with 27 speaking stops and a 2 channel audio system with internal speakers.
Visit our Second Hand Organs page for more details.
---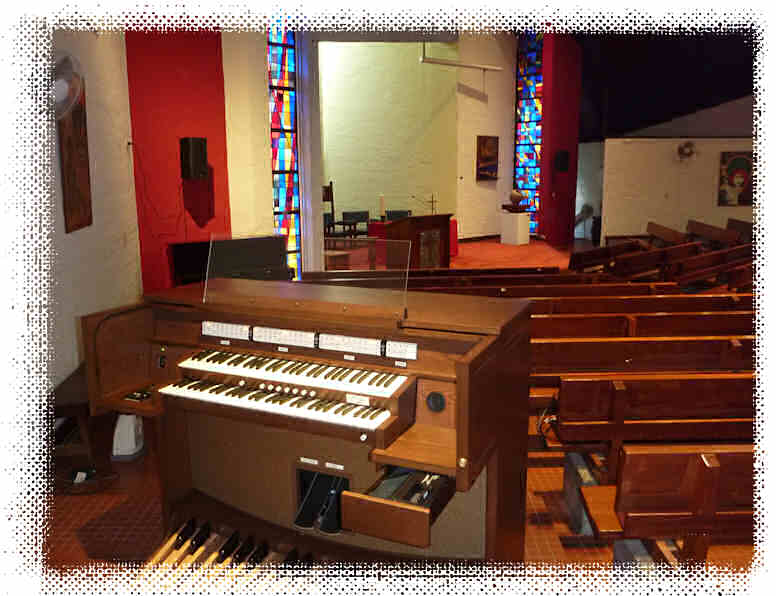 • May 2016: Another new Allen organ installation in Perth was into the Chapel at Scotch College in Swanbourne. Scotch College first purchased an Allen organ in 1982, which was installed in their Memorial Hall. This organ served them faithfully over the intervening thirty plus years, so when considering a new organ for the Chapel, an Allen organ was a logical choice.
Installed in May 2016, the organ is an Allen Bravura model L-10 which is also fitted with an Allen Navigator. The model L-10 has 28 speaking stops, and 41 stops in total. It has four tonal suites and in this organ, the optional Wurlitzer suite is installed. The organ has two audio channels, and these drive two speaker enclosures which are located at the front right hand side of the Chapel.
The Chapel is an architecturally designed building of unusual shape, with sharp raked ceilings and many unusual angles. It seats around 300 and has beautiful stained glass feature windows. The sound of the organ adequately fills the building, providing a wonderful addition to a lovely building.
---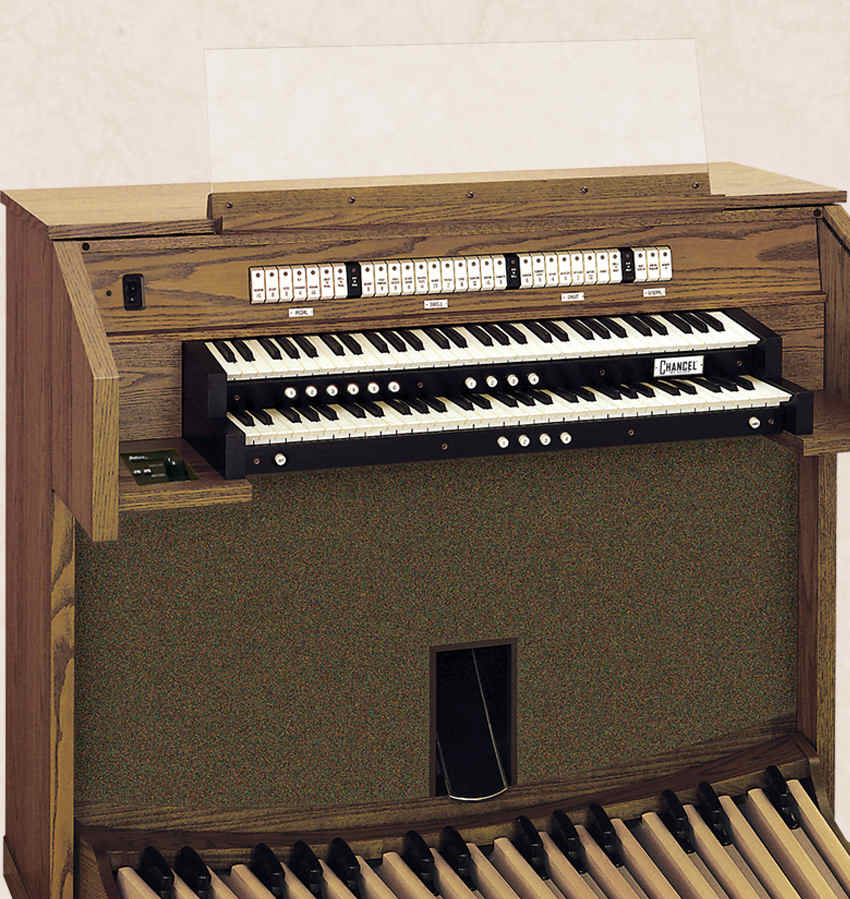 • Jan 2016: Another private residence installation occurred in January 2016, when we installed a new Allen model CF-3 into a private residence in Coogee. This Allen organ replaced a pipe organ installation. The features of this instrument are:
• 23 speaking stops, 32 stops in total.
• 2 manuals, 1 expression pedal, internal speaker (two channel) 120W audio system.
• 6 general pistons, 4 divisional pistons, 4 capture memories.
• Advanced MIDI capabilities.
• LED stop action.
---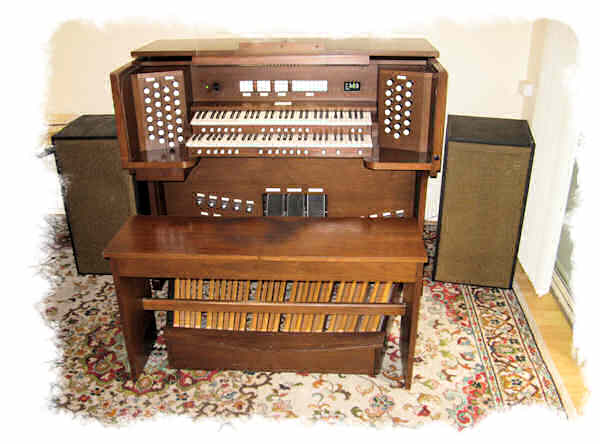 • Another private residence installation occurred in July 2015, when we installed the instrument pictured on the right into a private residence. This organ was traded when Queens Park Catholic Church upgraded their organ earlier in 2015. The owner of this organ has played an Allen in his church for nearly forty years, but has now taken the opportunity to purchase an instrument for his home as well.
The organ is a model MDS-36, with 44 drawknobs, second voices on selected stops, a large capture action system, and two channel audio system.
And just before that, during June 2015, there was another organ installation in a private residence. A new Bravura model L-5 was delivered and installed into a home in Darlington. The L-5 has proven to be a popular model, this being the third L-5 installation in Western Australia in a 12 month period. With 27 stops and 4 tonal suites, this organ provides excellent value for money.
---
Allen Organs has produced some interesting videos which can now be viewed on YouTube.
Click here to view Allen videos on YouTube.
---